January 2006
The IAAA announced the formation of the IAAA/Automediators Association in 2006 during the All-Auto-Appraisal-Industry-Conference that took place in Scottsdale Arizona.
The IAAA/Automediators Association wrote the Automediators Association Ethics and Procedures with the help of Dr. Amy E. Visser, Esq. Ph.D, ADR, Visser is a certified ABA (American Bar Association) arbitrator who worked with the Texas Bar Association in establishing criteria for arbitration and mediation procedures.
Dr. Amy E. Visser's resume also includes working as an Arbitration and Mediation consultant to the US State Department.
March 2007
The IAAA (International Automotive Appraisers Association) provided its first Auto Mediators training online in 2007.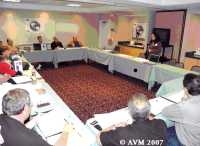 Dr. Amy E. Visser is seen in left photo administering the first ever IAAA/Auto Mediators Association Ethics and Procedure course and test in Scottsdale Arizona, January 19th 2007 during the All-Auto-Appraisal-Industry-Conference.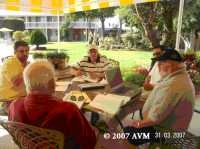 A. V. Monopoli (right photo) administered the first Regional Ethics and Procedure tests in West Palm Beach, Florida on March, 31 2007.
The IAAA/Auto Mediators Association provides Appraisal Clause Umpire training in regional and online meetings yearly.